Just one month after the outbreak of war in Ukraine, the Kiev Independence Monument was symbolically placed in front of the Russian Embassy in Sofia, and a few weeks later it was also displayed in New York. Naturally, not the physical one, but the 3D Augmented Reality (AR) image of the monument was meant to send a message of solidarity with the Ukrainian people. The man who installed it and invited artists from all over the world to exhibit anti-war art in various city squares is Dragoș Silion, a 28-year-old from Iași who currently teaches "labs" at the Faculty of Computer Science of Alexandru Ioan Cuza University in the city, as part of the "Introduction to Mixed Reality" course.
Dragos, and his colleague Bogdan Topîrceanu, PhD in art from Bucharest, are the founders of ArtLink, a startup that creates virtual art galleries or offers educational solutions for innovative and interactive tourist attractions using AR.
"When the war started, all we could do was to initiate an Open Call, successfully promoting 18 artworks by artists from several countries, hoping to capture that moment of emotional intensity in the first weeks. We received contributions by artists from Romania, Bulgaria, Finland, Switzerland, France and even Ukraine," says Dragoș.
Take a look at the images below: 
ArtLink is a platform that makes it easier for artists and people in the cultural field to experiment with technologies such as AR and, broadly speaking, New Media. After installing the ArtLink app, users can start exploring using AR. While with a QR code the user would have to place the code in a frame on the phone screen, users of ArtLink can point their phone at an object or a building. "AR is about adding a digital layer on top of physical reality, usually via a mobile phone or special glasses. In terms of experience, in AR you still see the world around you as it is and only a certain object in AR, let's say... a floating painting."
Artworks or images of objects processed by the artists and uploaded to the app can be "placed" in the real world by pointing the phone's camera at a square, a park, a wall, as if you were preparing to take a photo. The image in the app is standing right there, in that location. Just as the Kiev Independence Monument appeared in New York. 
"In conjunction with the Open Call, we created a life-size 3D replica of the Independence Monument. The actual one is located in the heart of Ukraine's capital, the reason why you could see it on every live stream on the internet at the time. We put out a call to our artists' community to stand in solidarity with Ukraine by displaying the monument in different urban centres, and they did so in Iași, Bucharest, Sofia, Tallinn, Munich and New York. Sort of We are Ukraine! in AR", says Dragoș Silion.
The monument: 
While the war raged on in everyday reality, and messages of support for Ukraine became more and more present, support for the Ukrainian people was also being conveyed in AR - a reality less known and therefore not so widely accessible to the public. As a result, Russian embassies in various countries were picketed with anti-war messages in AR.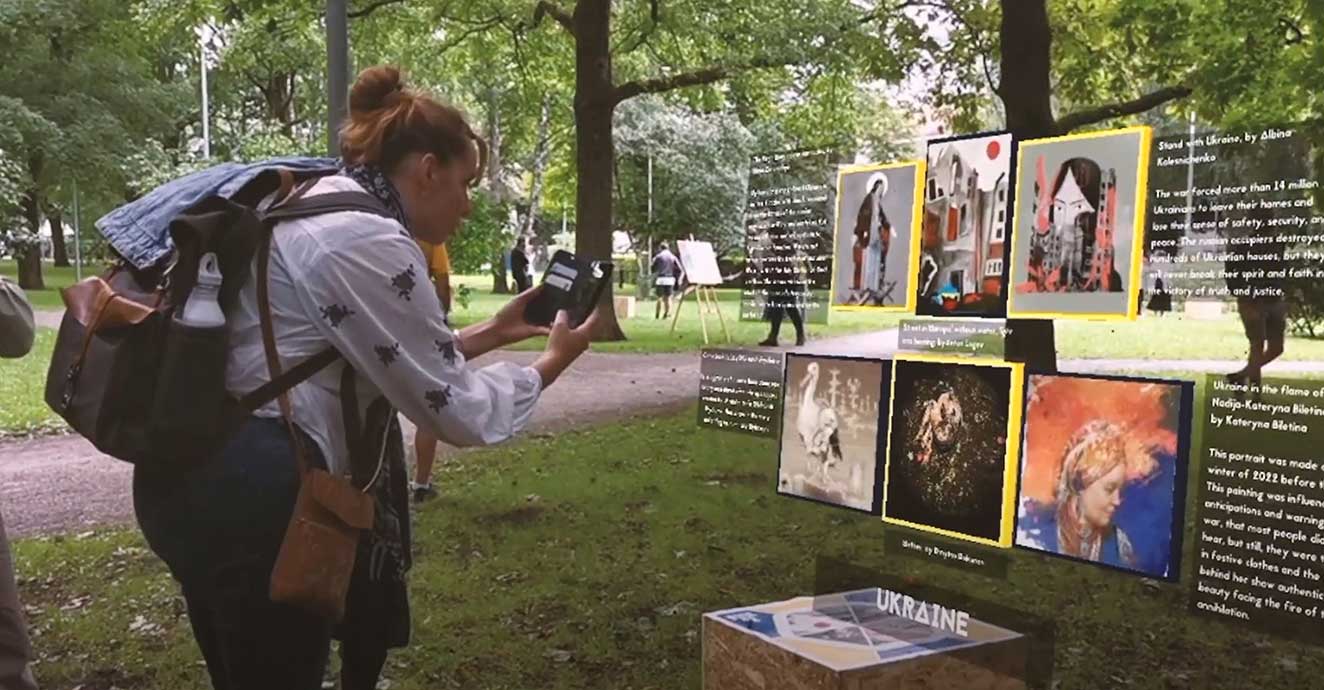 ArtLink's founders launched another anti-war campaign with one of their main partners, FineActs, a global creative studio focused on social impact based in Sofia, and TheGreats - an initiative allowing artists from around the world to share their open-source work for various social purposes. " Our partnership aimed to display posters from TheGreats' AntiWar collection via AR in various locations as part of a protest action, protected by the fact that they are "invisible" in the real world without a mobile phone. These posters originated particularly in the context of war censorship, when, among other things, even the word war was banned, a reason why in Sofia they were displayed in the very vicinity of the Russian Embassy."
AntiWar posters:
"These were all experiments in the area of social awareness, we didn't necessarily expect to change anything in the grand scheme of things. Moreover, we aimed to understand and take part in how different organisations and artists react and choose to express themselves in such moments", modestly remarks Dragoș Silion. But, to his surprise, the echoes of the projects launched by ArtLink have even reached Eastern European countries, and companies or artists that the startup had no prior involvement with. In war, moral support matters as much as the weapons used by soldiers, and Ukraine, already supported online by almost the whole world, now has supporters in AR too.