Among hundreds of runners lined up at the start of the MultiversX Cross-Country Run at the 2023 edition of Sibiu International Marathon stands Anastasia Boiko. Dressed in black, she wears a white scarf around her neck with the logo of the Ukrainian Community Association of Mediaș.
Anastasia entered the Marathon in order to support the organisation's cause: a summer school in Mediaș, in July and August, offering Romanian and English language courses, crafts and drawing club, sports activities, a graphic and web design course, experiments and a computer literacy course.
Beneficiaries of this project will be about 60 children currently attending the Ukrainian Educational Centre in Mediaș. 23 of them were evacuated from an orphanage near Kiev as the Russian invasion began, and have been sheltered since mid-March 2022 by a foundation in Prod, a village in Sibiu county. Other children at the centre are also refugees from Ukraine, but they arrived with their parents, most of them with only their mothers. 
Anastasia fled herself when faced the Russian invasion. Twice. First in 2014. She was 19 back then, studying applied modern languages and English-Ukrainian translation at an university in Donetsk and supporting herself designing websites. She moved to Kiev and studied at the National Linguistic University, but was unable to catch up academically. Furthermore, living in the capital was very expensive, so when she found out that her university moved to Vinnitsa, a town about 300 km southwest of Kiev, she relocated there and continued her studies. She returned to Kiev after finishing her third year and got a job as graphic designer and copywriter.
Two years later, as she always wished to become a teacher, she took a part-time job at an alternative school where she learned to teach English and Ukrainian in a creative way that made the classes more appealing to children. She carried two jobs, "one for the soul, one for the money," until she saved enough to do just what she loved: being a teacher. She ended up teaching Ukrainian at a state school and storytelling classes at a "democratic" school, where children had the choice of what to study.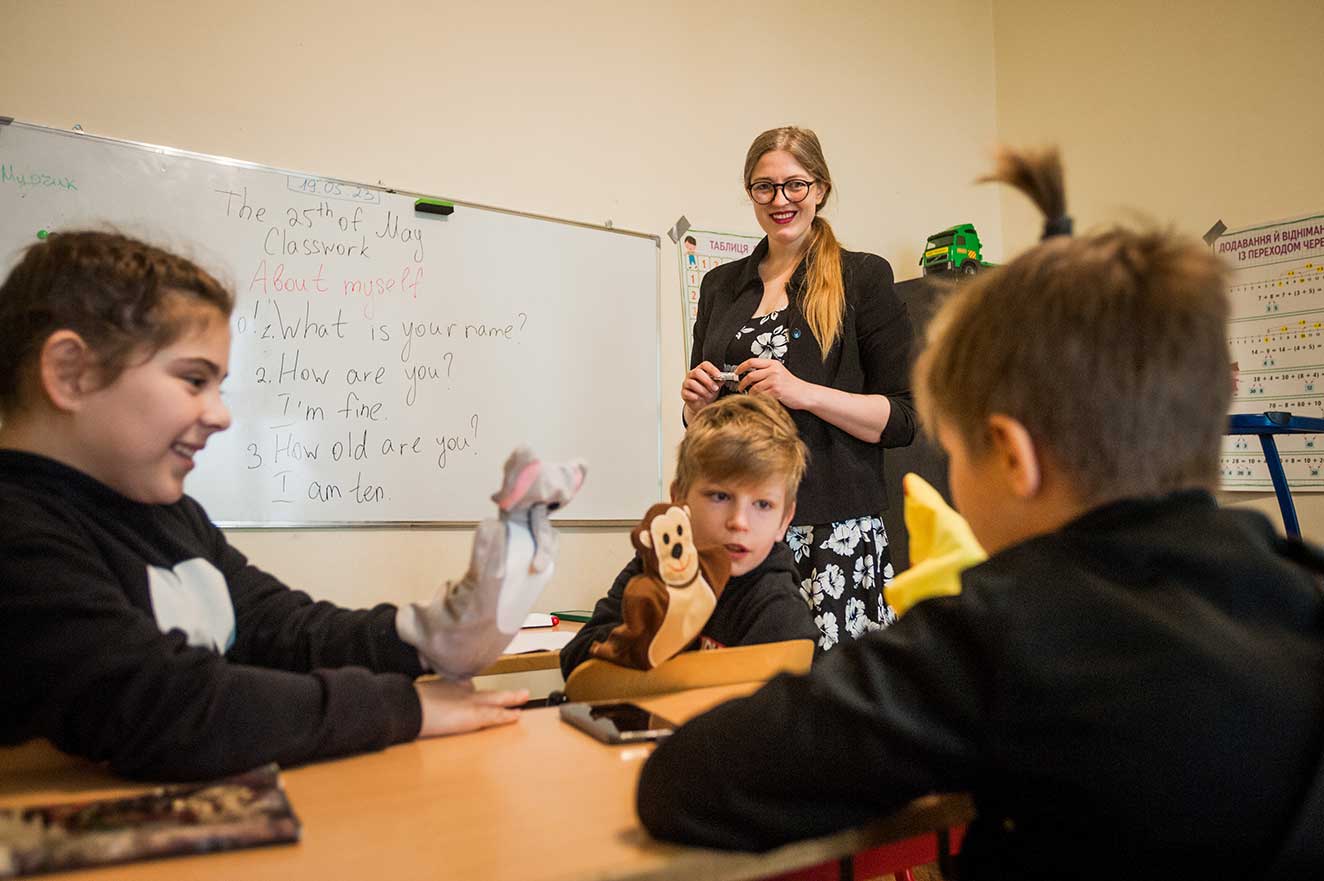 Sergiu
He lived outside the city, next to a forest, when the alarms started wailing the morning of February 24, 2022. He first heard about them through the school chat, where everyone talked about the bombings and how dangerous it was to go to school. "Then I heard helicopters and army cars. I tried to withdraw money from the bank because I was unable to use my cards, but I couldn't do it because there were long queues. Trams didn't run as the roads were blocked by army vehicles. Several tanks were also there. I went back home and decided to stay there for everyone thought the whole thing would not last more than a week," recounts Anastasia.
About a week later, together with a neighbour, they decided it was time to leave. And found someone willing to risk driving them out of town through a friend. They could only bring one backpack each. They went somewhere in the west of the country to visit friends, but it was too crowded and the prices were very high. "A friend - actually I had a lot of friends helping me all the time - who lives in Berlin but is originally from Azerbaijan, told me that friends of friends could host one or two people in Mediaș. In Transylvania, he told me. I only knew that Transylvania had Dracula, but I had to do something," she recalls.
On March 7, Anastasia arrived in Sighetu Marmației, and from there volunteers drove her to Mediaș. The next day she had a meeting with Ukrainians already living in the small town and she offered to teach and carry out various activities with the children. She started spending a few hours a day with them teaching them English, storytelling and playing games. "The very next day after my arrival I met Sergiu, a young man from Mediaș, data manager at an energy company, and we've been together ever since."
Summer School
Within the first few days after her arrival in Mediaș, Anastasia met Julia Batioha, an Ukrainian from Harkiv, who moved to Romania in 2012. Julia is the administrative director of a local company and started volunteering to help refugees who arrived in the city shortly after the conflict started. " At first it was just me, Anastasia and a boy from Mediaș, who is also Ukrainian - he was volunteering somewhere else, but we were in constant contact because we didn't want to have two separate groups, but one community," Julia recalls.
Gradually, the number of refugees choosing to stay in and around Mediaș started to increase. They were happy when someone offered them a free room in a former restaurant. The children were arriving in increasing numbers and it became necessary to divide them into age groups. They found out that schools for Ukrainian children were being established in other towns in the country and decided to set up an educational centre with Anastasia as its director. They started looking for sponsors to help pay for teachers and rent for the space.
In November 2022, they founded the Ukrainian Community Association in Mediaș. The Centre now operates in a building with eight classrooms and a separate hall for teachers, for which they currently pay a rent of €3,000. Twelve teachers are employed, but not all full-time. Some of them teach several classes. Some of the salaries are financed by UNICEF, but for the others they have to search for funds every month.
Anastasia also earns a salary, but continues to work online at the two schools in Ukraine where she was employed before the war. She wakes up at 6:30, does some light exercises, and at 7:50 opens the school, checks that everything is in order and gets ready for class. The first part of the day consists of lessons, followed by 30 minutes for lunch break, then the after-school programme.
Children and teachers eat together at a nearby restaurant and the costs are covered by the foundation that accommodates the children at the orphanage. The same foundation also provides daily transport for the children from Prod to the centre and back. Activities are shared by all children at the centre and each of them is enrolled in a school in Ukraine.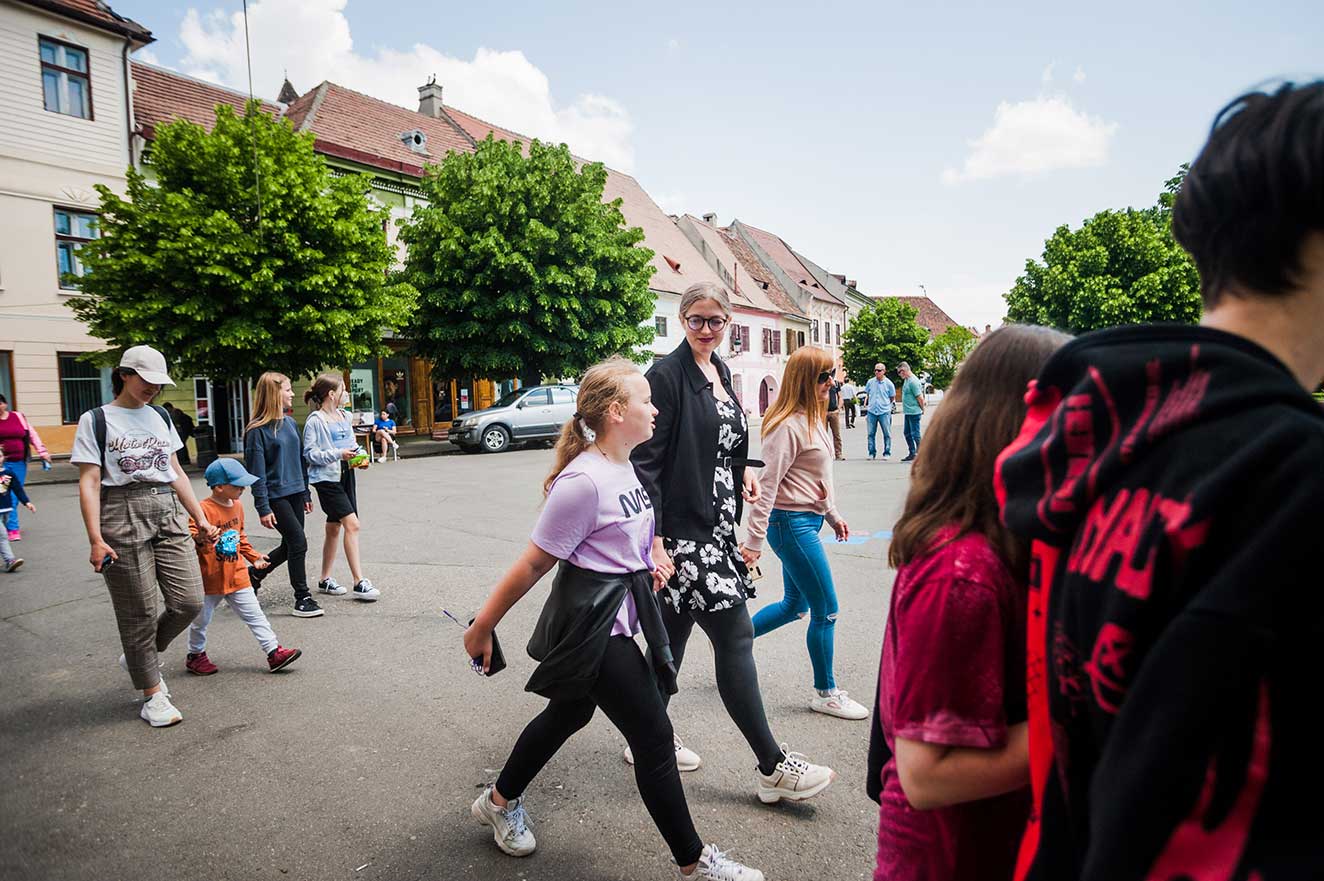 School year in Ukraine is divided in two semesters. Within a semester, students study course materials, carry out exercises, discuss topics and, two weeks before the end of the semester, Ukrainian schools prepare tests for their students. Teachers at the Centre deliver the tests to the students, then photograph their answers and send them to their schools.
The school year ends in June, but the Education Centre wants to continue taking care of the children during the summer holidays. That's how the idea of summer school was born. As funding ends when the school is over, the idea of participating in the marathon seemed appropriate. Forty-six runners signed up to support the summer school project, including 12 children. Anastasia wished she could train more, but she didn't have the time. She hopes to raise enough funds for the summer school, "then we'll see".
If you wish to support Anastasia, you can do so via her fundraising page on Sibiu Marathon's website.