Small country, big heart. It's not just a nice slogan, it's the reputation Moldova earned since the beginning of the war waged by Russia against Ukraine. Basarabians opened wide their homes and hearts to hundreds of thousands of Ukrainians fleeing from the path of death.
Republic of Moldova is the country that took in the most Ukrainian refugees per thousand inhabitants, of which more than 100,000 decided to stay on the left bank of the Prut river. This huge effort received recognition from Brussels to Washington to Tokyo. It's hard to imagine how the authorities in Chișinău would have dealt with the refugee crisis if it weren't for the unconditional involvement of volunteers and companies in the country.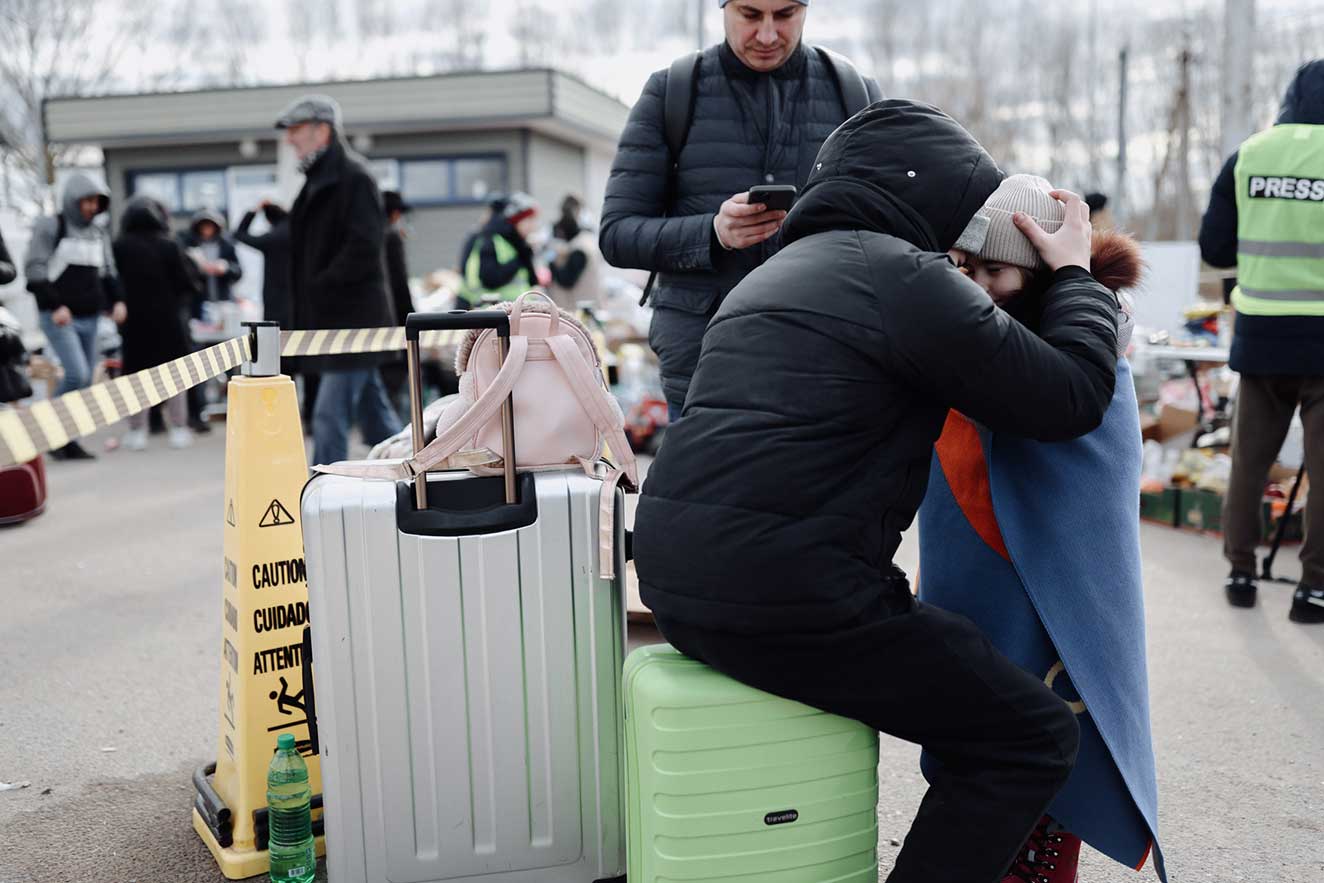 On February 24, when the war started, the team of the oldest winery in the Republic of Moldova gathered in an extraordinary meeting and the managers of the Purcari winery made a commitment to help as many refugees from Ukraine as possible. Because the winery is located 30 minutes from Palanca customs, the busiest border crossing point at the time, they decided to offer accommodation in their french-style mansion. Furthermore, they also set up a tent on the border road to provide refugees with water, hot drinks, snacks, SIM cards and basic necessities. 
"We cannot turn a blind eye to the tragedy of our neighbours. Thousands of Ukrainians have crossed the border from Criva to Palanca to reach the Republic of Moldova, fleeing the chaos of war. For us, it is a test of compassion and humanity. All of us who are able to help - with shelter, a warm pie, a word of encouragement - must do so," Purcari wrote on their Facebook page on the first day of the war.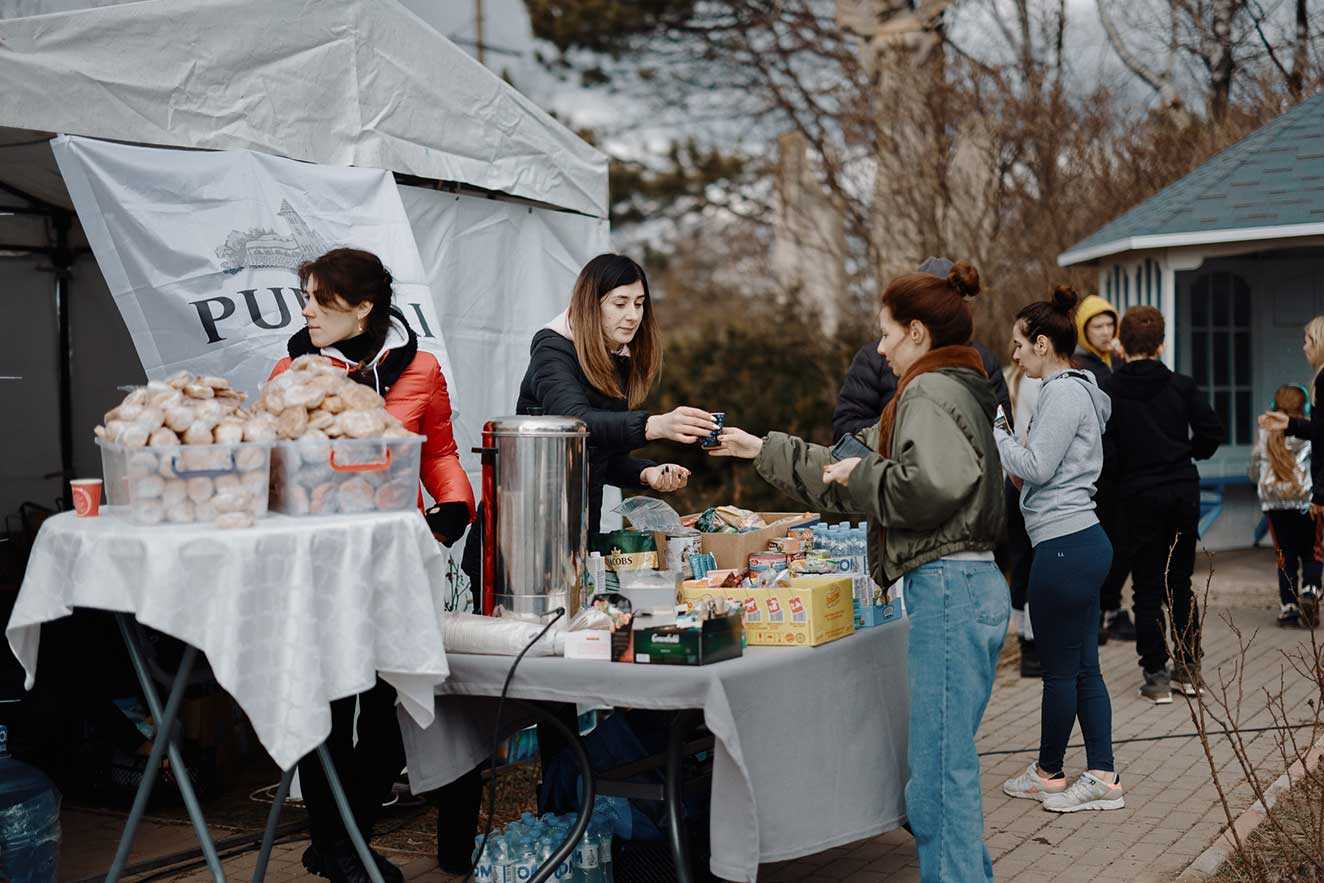 400,000 in the first weeks
More than 13,000 Ukrainians received help at the tent set up by the Purcari winery near the Palanca vineyard, and more than 5,000 of them were provided with accommodation at Château Purcari or at hotels in the region, all paid for by the winery.
Many refugees also took shelter in the houses of employees in the village of Purcari. Workers at the winery remember how they prepared 900 sandwiches a day and on some days had to accommodate a dozen refugees in one room. They turned their dining rooms into dormitories. The cellar representatives say it was exhausting, both physically and emotionally, but they found strength when they looked into the desperate eyes of those who fled the horrors.
400,000 Ukrainians crossed the border into Moldova in the first weeks. Officials at Purcari also say they provided transport to placement centres for thousands of refugees. And all these while they were open to offering them jobs.
"We ran away from Nicolaev because we were afraid. We walked a long way until we made it to Republic of Moldova. There was a long queue of about 10 kilometres to the customs and we decided to get out of the car and walk. I was there with my child and two other women. We felt neither tired nor cold. I just wished that my little girl would not hear the terrible sound of war. After crossing the border, we saw many minibuses and people waving at us, a sign that they were there to help us. We reached the Purcari winery and took shelter there for a few weeks before we decided to move on to our relatives in Europe. The people were kind to us, they guided us through every single step," Olesea recounts the adventure of reaching Purcari.
Veronica, also a refugee, tops her story: "We had a life, we were happy, we had a job and a clear sky overhead. All that was stolen from us. When we crossed the border, we felt a sense of relief and peace. We fled Mariupol. It was cold, we didn't take much luggage with us and the stuff provided by the volunteers helped a lot. The winery was our home for a few weeks and we hope to come back again, but under different circumstances... All the people asked us if we needed anything, we felt empathy, even if maybe we were more reserved in talking and showing our emotions, and our thoughts were scattered."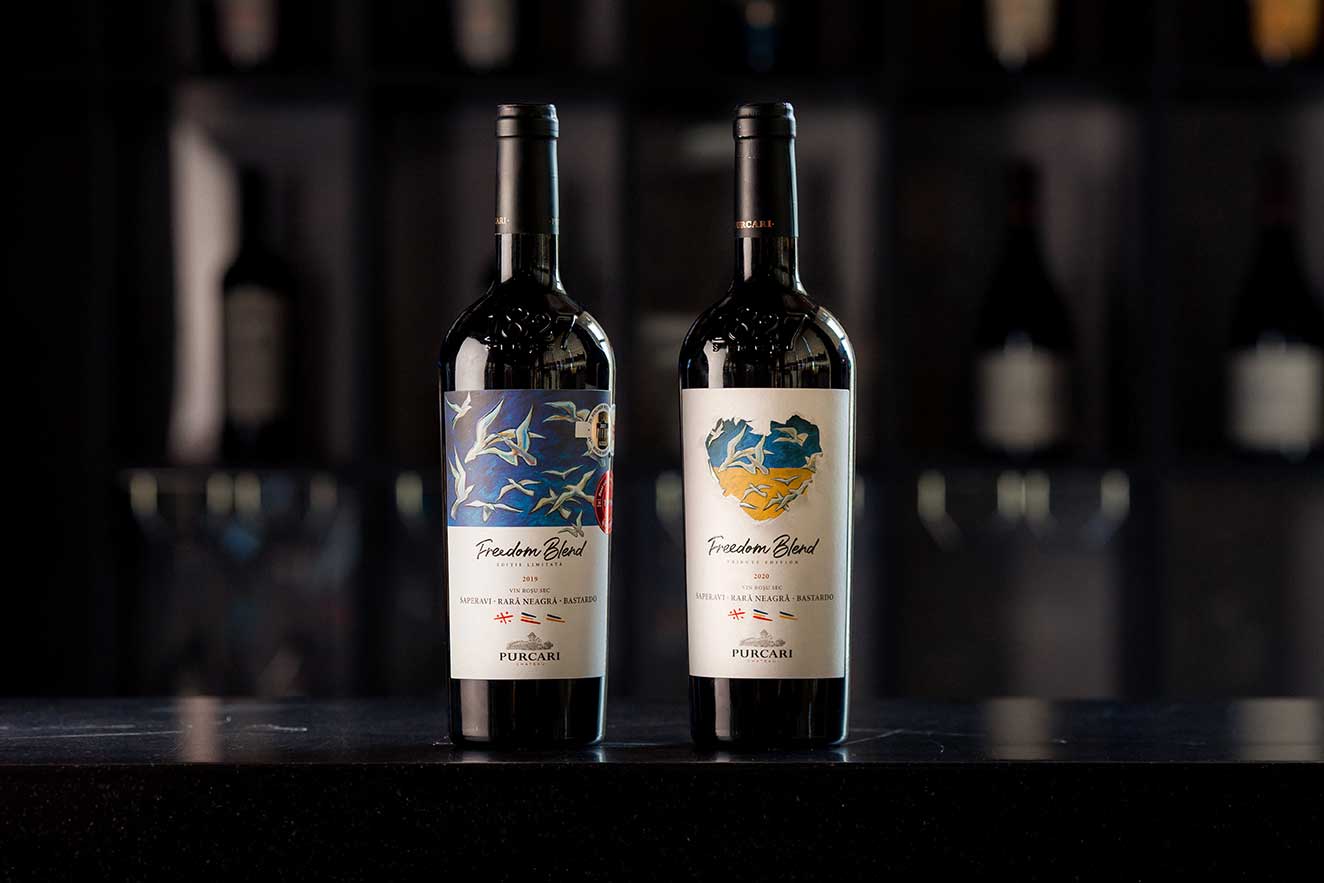 Freedom Blend
Vasile Tofan, Chairman of the Board of Directors of the Purcari Group, based in Kiev for many years, said that when the war started, he left everything behind and took refuge in the Republic of Moldova, where he was born.
"Like many others, I had to leave my home, everything I have in Kiev, and move here. Because I am Moldovan and my family is here, I have a better situation than others. We mobilised and now we are trying to do what we can for people from Ukraine," says Vasile Tofan.
The Purcari winery has distinguished itself over the years not only with internationally acclaimed wines but also with boldly expressed political messages. In 2014, after Russia annexed Crimea, the winery launched Freedom Blend, a wine made by blending three local varieties from Moldova, Ukraine and Georgia - countries that fell victim to Russian aggression over the past three decades. Purcari officials said the wine is a symbol of our common struggle for freedom.
Last year, when the war started, the label of Freedom Blend took a different shape: a heart was painted in Ukrainian colours, the symbol of solidarity with the Ukrainian people.
"This wine was and remains the symbol of our campaign of solidarity and support. With this gesture we aimed to show our hearts are now with Ukraine and each and every person in the Republic of Moldova will do everything possible to support the Ukrainian people in their fight for freedom. Freedom Blend is a courageous, characterful blend of indigenous grape varieties from the three countries. It has the heart of Georgia, the terroir of Moldova, the free spirit of Ukraine and is matured in French barriques for one year. It is a valuable blend, created by and for free people!", underlined Victor Bostan, General Manager of Purcari Winery.
They aimed to get their message into as many hearts as possible and the wine into as many glasses as possible. It wasn't hard, as world media heavyweights such as CNN, BBC, The Washington Post and The New York Post were keen to tell the world about Purcari's stand of solidarity. And Freedom Blend was awarded numerous gold and silver medals at prestigious international competitions: Concours Mondial de Bruxelles, Mundus Vini and London Wine Competition.
The good news is that all profits from the sale of Freedom Blend benefit the victims of the war in Ukraine. More than €150,000 was raised, providing access to education for thousands of children in regions affected by the war, who are now only able to study online. In early May, team Purcari went to the Herson region, where they met over 1,000 children and parents. They gave away hundreds of tablets to school-age children, ensuring access to education and better opportunities for the future. 
"It is in our power to create a better future by promoting the right values, such as integrity, freedom and peace. For true values do not change over time, and we are aware now, perhaps more than ever, of the importance of freedom and peace. (...) In March we had the opportunity to go to a shelter in Ukraine, where besides sadness and fear, we found hope and faith. We couldn't go empty-handed and provided them with the basic things, that they needed most," Purcari wrote on their Facebook page.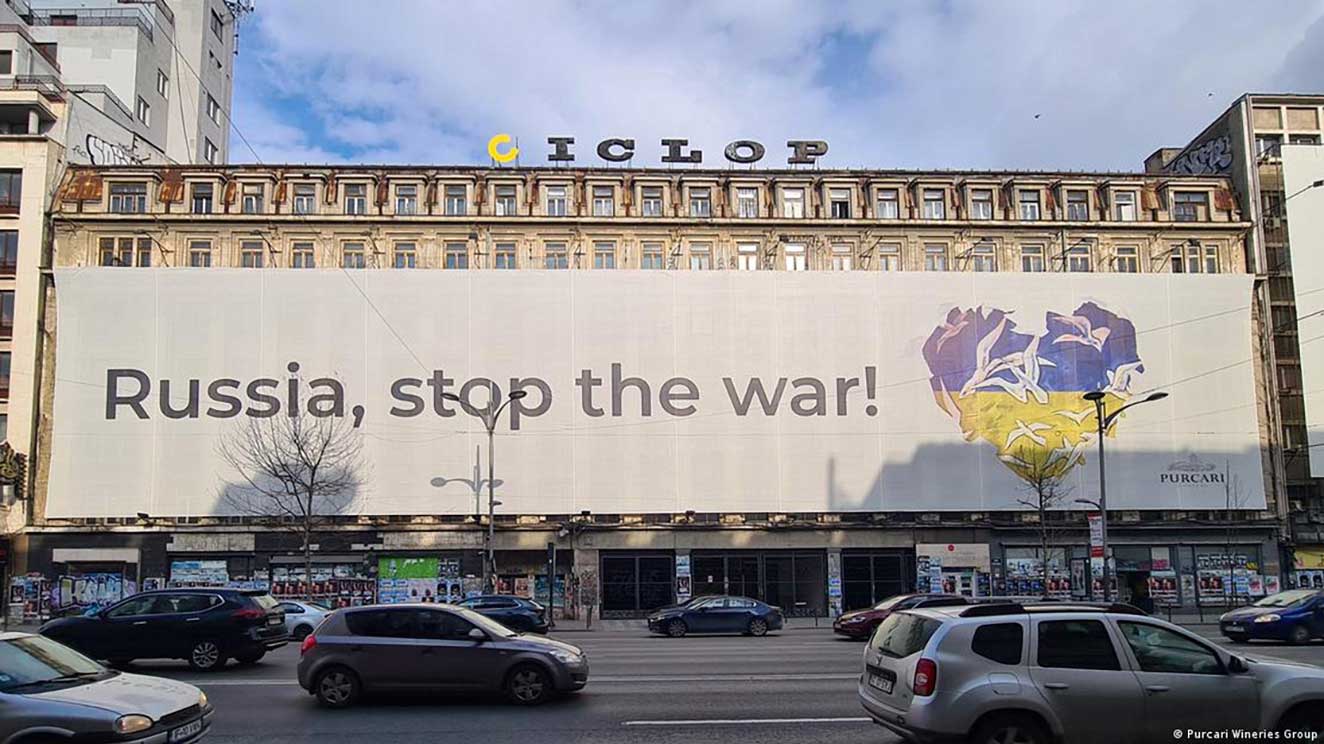 Good will prevail
Purcari also installed a large banner in Bucharest asking Russia to stop the war. And at the end of last year, the winery launched a manifesto campaign sending a message of encouragement in these troubled times. 
" Not us! We will never lose our faith! This is our guiding slogan. Our will not be shaken by the ugly things all around us, we will fight for the betterment of all and stand firm, both as people and as a brand, as we have always stood. (...) We want to convey hope, strength, consistency, confidence in our own strengths and the belief that good will prevail. Always!", stressed Victor Bostan, general manager of Purcari Winery.
*
Purcari Winery is part of the Purcari Wineries Group which is listed on the Bucharest Stock Exchange. It is one of the largest wine groups in Central and Eastern Europe. The group manages approximately 1,350 hectares of vineyards and operates five viticultural sites in Romania and Moldova. Purcari is the leader in the premium wine segment in Romania with a 30% share and is the largest wine exporter in the Republic of Moldova, delivering to over 40 countries. Negru de Purcari is the first and only wine from the Republic of Moldova to be included in the Decanter TOP Classic Wines, and Cuvée de Purcari Brut White sparkling wine won the gold medal, being among the top ten best sparkling wines in the world.